Failure of great white drumline tagging in Western Australia
The scientific trial saw Shark-Management-Alert-in-Real-Time (SMART) drumlines used at 10 fixed locations across 11.5 kilometres of south-western coastline, about 500 metres offshore from Hangmans surfbreak north of Gracetown south to Ellensbrook, with these drumlines monitored for 465 fishing days over the two years.
Captured great white sharks are tagged with acoustic tracking devices and released for future monitoring, and the report extracts below provide clues as to why the drumline tagging project failed.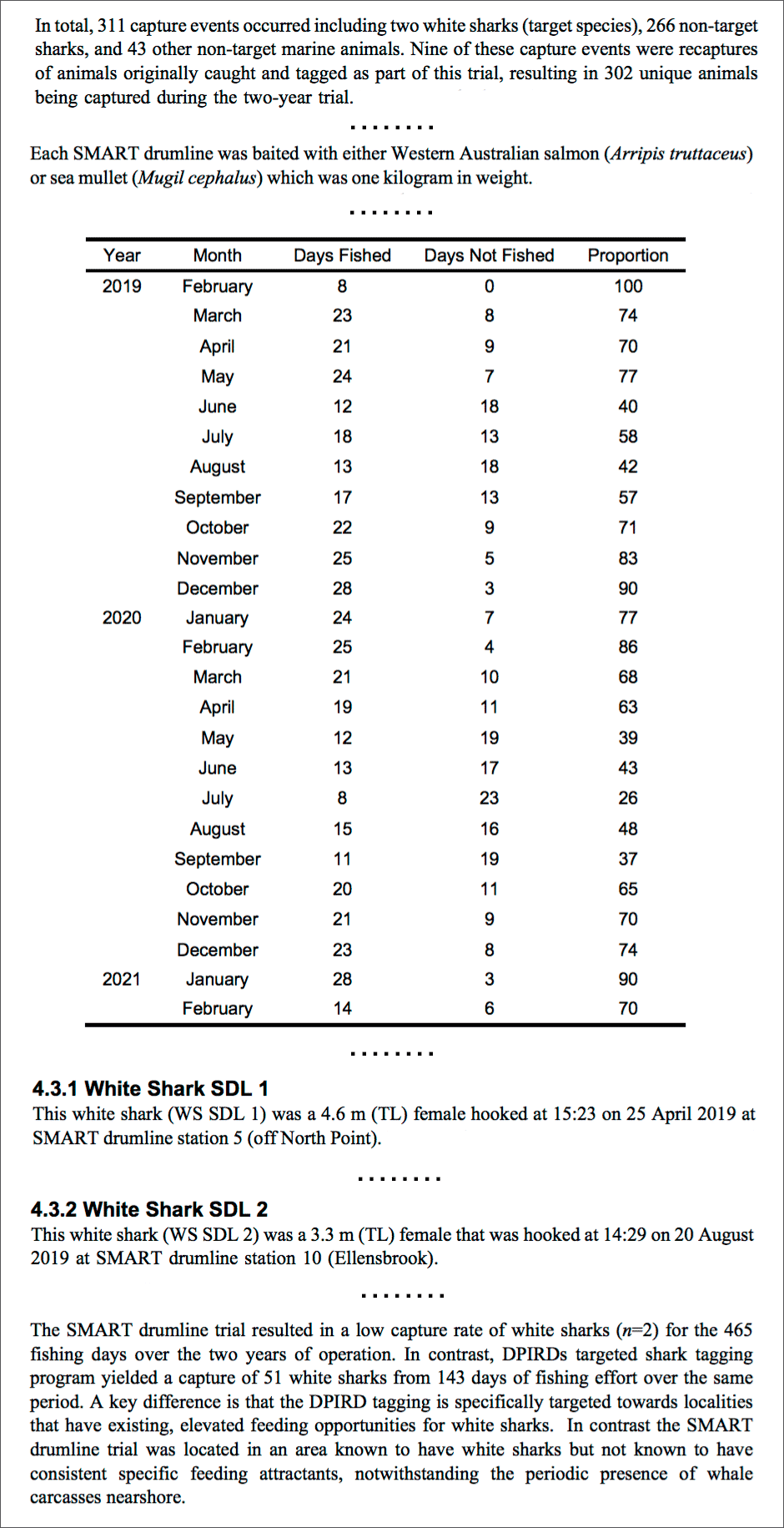 The report states that salmon and sea mullet were used as drumline bait. However, it should have been a kilogram of whale meat to lure the mature great white sharks that were the target species and which are responsible for most fatalities off the WA coast since the 1990s.
Great whites lose their appetite for fish when mature and are instead attracted by mammal meat for nutrient content and, with whale carcasses, possible reproductive purposes. There has been a 12% per year increase in WA's humpback population since the 1960s, drawing larger numbers of great white sharks into WA coastal waters.
Due to inclement cold season weather, the average per day proportion of drumline fishing in December, January, February and March was 81.0%, compared to the average of 55.7% in all other months when great whites are attracted by whales to the WA coastline.
The two hooked great white sharks were caught in April and August of 2019, which are months when WA's humpback migration has either begun or is in full swing with more than 40,000 of these whales (about two million tonnes of adult whale bait) in WA waters.
It is unlikely the drumline tagging trial would have proved efficient if whale meat had been used, but it's likely more than two great whites would have been hooked and tagged if this appropriate bait had been used to attract the target species.
The chart below shows how many tagged great whites were tracked during the two years :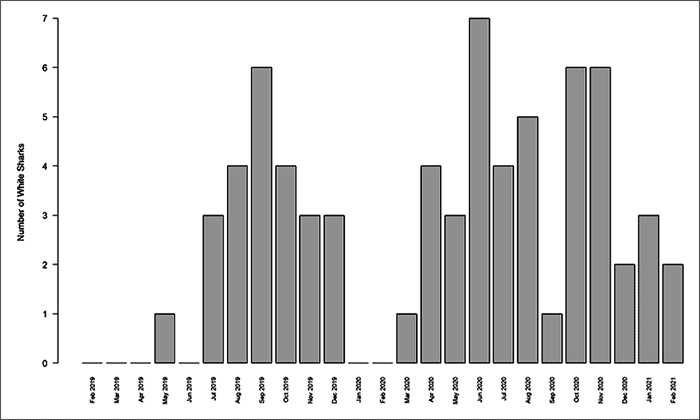 The tracking supports evidence that great white sharks are mostly absent off WA's coast during summer months, with a clear increase in numbers during the colder months when humpbacks migrate.
Despite a clear cold season correlation for great white numbers being tracked, the report states : "There is no evidence to support seasonality in the timing or direction of white shark movements through the Capes region".
The WA Department of Fisheries claims there is no evidence that great white sharks are attracted by migrating whales, despite its own research showing that the increase in great white numbers corresponds with the increase in whale numbers.
Apart from the extract above conceding that nearshore whale carcasses attract great white sharks, the report only once uses the word "whale" - referring to them as "iconic animals of high social value".
This suggests that, as has been the case for many years among academics and the media, there is a reluctance by the Department of Fisheries to concede that the increase in numbers of much-loved whales could be associated with WA's great white shark attacks on humans.
This is associated with a failure to advise the public that summer months are the safest for swimming and a failure to target preventative measures during the colder months.
Back To Top